Is "not enough sex" a daily or weekly argument in your relationship?
Is sex at the bottom of your to-do list after mopping the floors, laundry, and packing the kids' lunches?
Would you rather catch up on your favorite show than have sex?
THEN THIS BOOK IS FOR YOU!
Nowadays, women work more than ever; they juggle a career, a household, kids, bills, pets, their own parents, and in-laws.
In a relationship, marriage to be precise, sex is on a continuum: from hot and sweaty to non-existent. I've seen numerous couples in therapy, all struggling to make the transition from "I can't breathe without you" to "I would rather watch Netflix or sleep than have sex."
Although most couples experience these changes, many don't know how to handle them.
Women may feel exhausted, guilty, and wondering whether they need medication to feel some sort of sexual desire again.
Men may feel unloved, misunderstood, and highly frustrated. Nobody wins.
Sometimes, the table turns but the frustrations still run high and the conflict intensifies.
This book offers a unique & practical solution that is a great compromise for both genders. It's fast and easy to implement and maintain. It's the real deal. The goals are realistic, easily attained, and make an actual difference in the relationship.
In addition to a sustainable & actionable solution, this book covers:
the fact that the female and male sex drives are different but there is no reason to apologize for such a difference.
there is nothing wrong with women that have a low sex drive and not all men are addicted just because they like sex.
a compilation of tips and ideas to increase assertiveness and honesty during sex.
and 10 bonus insights into what affects female sex drive such as husband's participation in household chores, his effort in looking good for his spouse, and his willingness to accommodate his wife's sexual needs.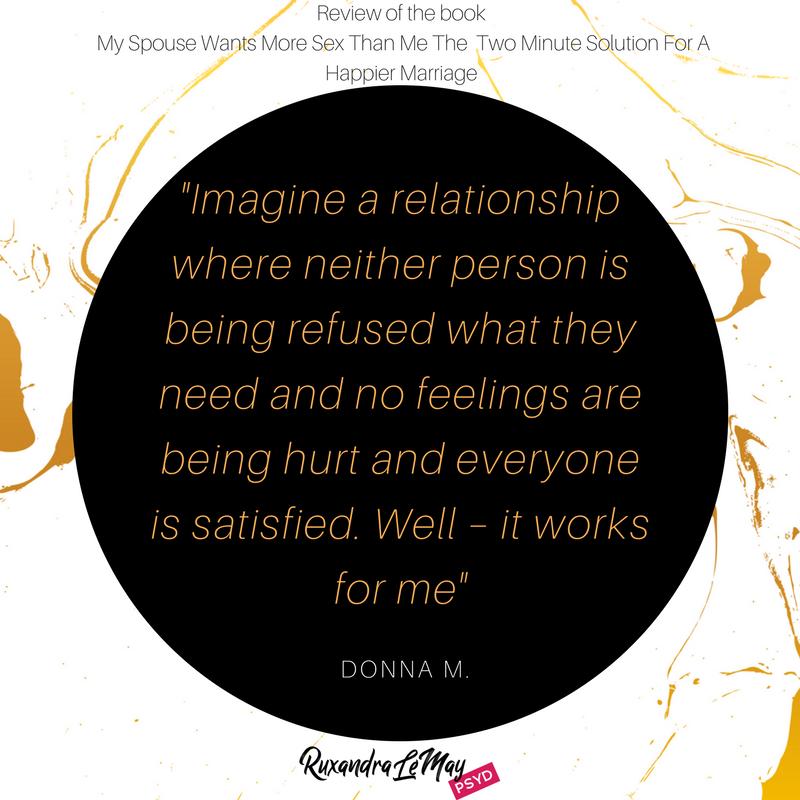 If you prefer the Kindle version or the paperback one, check it out the Amazon link.